For over 40 years, we are committed to developing and producing increasingly durable and functional fastening solutions.
In 1982, in our factories, the first Atlantic Man's bolt clamp came to life and over the next forty years we have invested in research and development to improve an increasingly performing product like the one we can provide today: here's how the quality and reliability of our clamping systems, designed for particularly heavy duty applications, have evolved over time.
Atlantic Man. starts the production of bolt clamps, focusing on the manufacture of a product entirely developed in Italy: the first clamps made are yellow zinc plated, the clamping takes place through a hexagonal nut and the welding is made with a two-points system. Furthermore, on the surface of the band the corporate brand and the Made in Italy marking are imprinted.
.
To respond to the new market requirements, the design of the clamp replaces the nut tightening with the direct tightening of the hexagonal head of the bolt on the threaded barrel: this makes it possible to fasten the bolt clamp both with manual tools and electric and pneumatic screwdrivers.
Following the increasingly stringent international regulations on yellow zinc plating, that while ensuring good corrosion resistance is considered harmful to health, the bolt clamp is now subjected to white zinc plating (according to all the standards of processing and selection of materials provided by the RoHS Directive).
Atlantic Man. continues to invest in its own production departments by introducing new and more efficient machinery that allow to make improvements to the welding system of the bolt clamp: the three-point welding, in fact, guarantees a more secure tightness even with very large diameters. In addition, to offer high performance in the heaviest applications, the underhead washer is replaced by a spacer that provides a greater tensile strength.
Atlantic Man. revolutionizes its approach to the fastener market: the range of galvanized iron (W1) clamps, the most widespread, is replaced with stainless steel products (W2 - AISI430) and on the same commercial terms. This has allowed us to double our market share, providing customers with a higher quality product while maintaining the same price competitiveness of the cheaper version.
A further change to the design of the bolt clamp is made to offer better performance: the rectangular underhead is replaced by a round spacer that allows to exert the clamping force no more on the band of the clamp but directly on the barrel, thus ensuring greater tightness.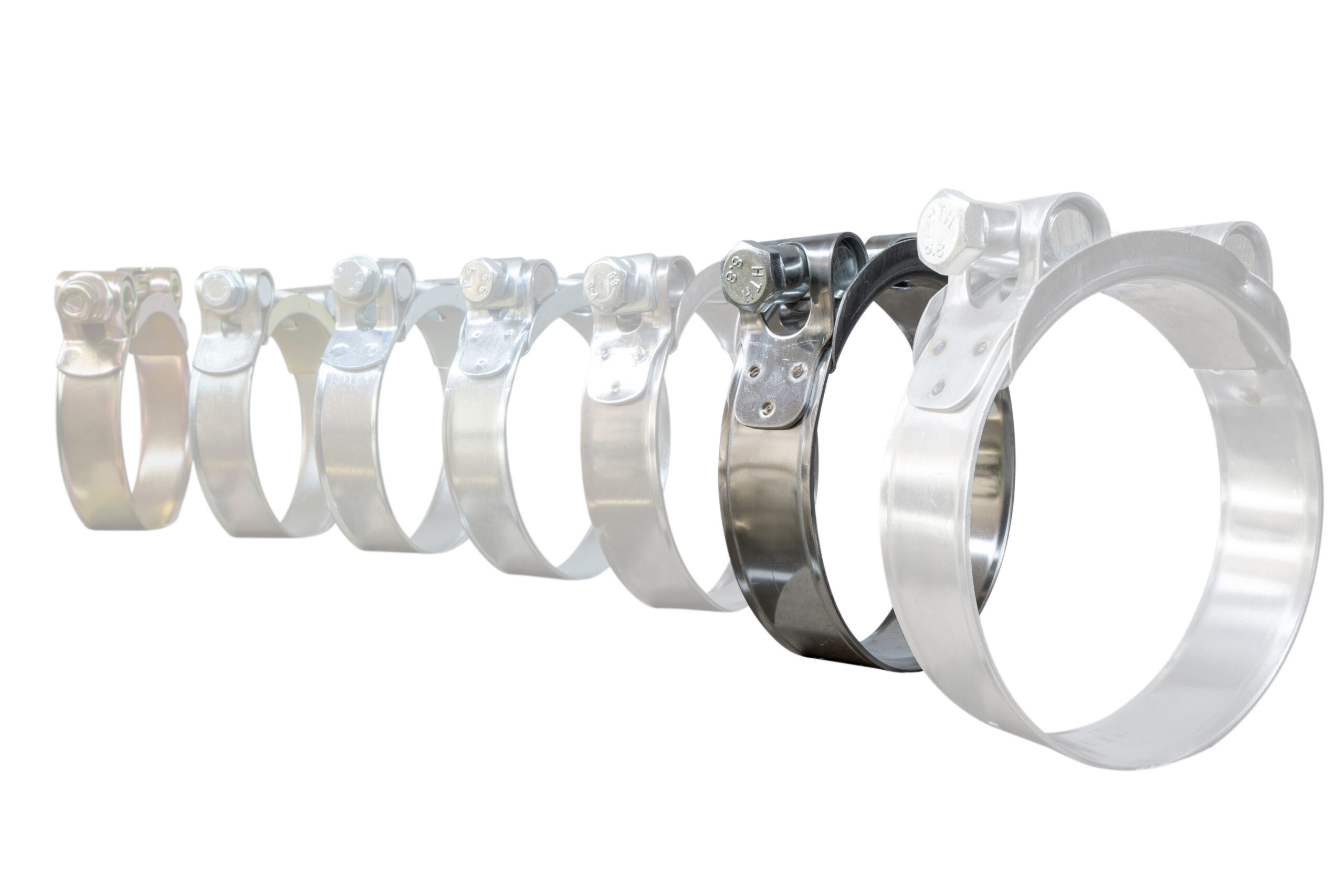 The central loop of the bolt clamp is removed to protect the hose from any damage, especially with applications at the edge of the maximum nominal diameter.